Get your own! Display it in your home and office!
The Ten Commandments Wall Chart
THE TEN COMMANDMENTS ARE THE FOUNDATION UPON WHICH OUR GREAT NATION WAS BUILT.

This is a wall chart which should be in every home, in every church school and Sunday School classroom, and in the foyer of every church in the land. Never before have its principles been so threatened.

HERE IS THE PRICE OF EACH EDITION OF THE TEN COMMANDMENTS CHART:

ENGLISH EDITION (King James Version)

SPANISH EDITION 18 x 24
1 chart $7.00 pp, 20charts $23.00 pp, 60 charts $51.00 pp.
Important: The English edition will be sent unless you say you want Spanish. No mix or match. (Example: You cannot order 10 of each language for $12.00.)
The Ten Commandments Charts, printed on glossy paper, are mailed flat.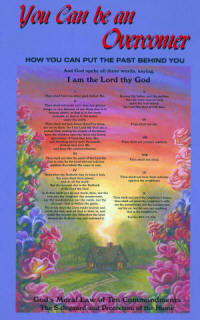 The beautiful and inspiring book featured on this website is now in print! Order your copy today!
HOW YOU CAN PUT THE PAST BEHIND YOU AND BECOME AN OBEDIENT CHILD OF GOD
144 pp., pprbk, 52 bks per case, Single copy $5.00 ppd. / Case price: $12.48 + $7.00 p&h = $15.40 / Foreign: $12.00 p&h //







CREDIT CARD ORDERS ONLY

Voice............931-692-2777
Central Time, 8 am - 5 pm, Monday - Thursday / Friday: 8 am - 12 noon
Fax...............931-692-3574
U.S. MAIL ADDRESS:
HARVESTIME BOOKS

PO Box 300

Altamont, TN 37301